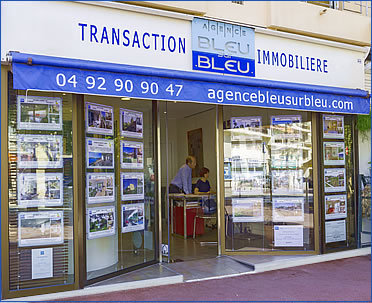 Bleu sur bleu Le ciel, la mer... voir l'immobilier en bleu !
Antibes, sandy beaches and port is 'alive' all the year round with its shops, businesses and cultural events. In this wonderful environment, we offer you a correct and truly attractive selection of real estate for all tastes and budgets.
Apartments close to beach, shops and bus way; in the centre of town, llette, Ponteil, Rostagne, Cap d'Antibes.
Apartments in condominiums with swimming pool, tennis, garden and security either on the hill of Les Breguière or the Chemin du Puy with panoramics views of the coast or the hills, or Roi Soleil, Saint Jean and Rabiac Estagnol.
Houses semidetached or in their own grounds if you are looking for more space comfort or independence.
Know more about our agency